Last weekend, I spend most of Saturday at the Hot August Blues & Roots Music Festival at Oregon Ridge Park in Cockeysville. I had no idea such a beautiful venue could be found so close to Baltimore. The rolling hills just south of Hunt Valley horse country set the perfect scene for the musicians on stage, and the weather gods smiled on us, providing a sunny day framed by the weekend's thunderstorms.
I'm pretty sure my days of 12-hour music festivals are behind me, but I devoted a respectable six or seven hours to the event. I didn't see any of the bands from the B-Side Stage, but on the way there I heard a charming interview with the 10-year-old frontman of Lennon La Ricci and The Leftovers on the festival sponsor radio station, 89.7 WTMD. I had a great seat for the bands I was most excited about, and I was certainly not disappointed. (I do recommend the VIP tickets. You get dinner, free drinks, and plenty of space for your lawn chair.)
After a high-energy set by the 70s-inspired Kings Go Forth, Robert Randolf and the Family Band took it to another level. I've seen this band before, at the 2007 Crossroads Guitar Festival, and it's clear they've evolved since then. Their sound was much tighter, and they were relaxed with the crowd. During the last song of their set, dozens of people in the front rows made their way up to the stage, and Robert Randolph just went with it. "There's nothing wrong with a little bit of electric church," he said. And that's what it felt like–the crowd had become a community.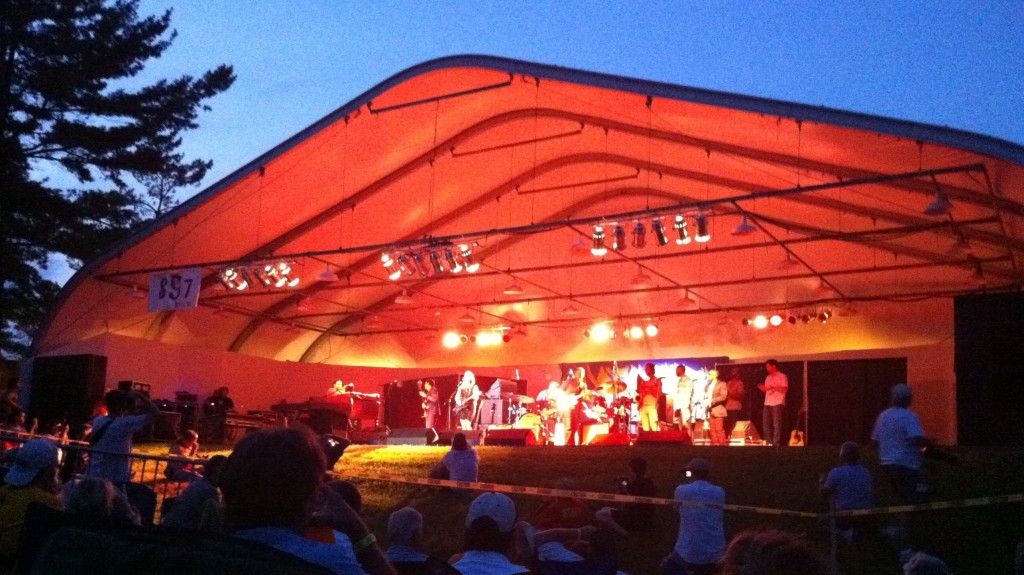 The finale was Tedeschi Trucks Band. I've seen the husband and wife team of Derek Trucks and Susan Tedeschi twice before, when they performed as The Derek Trucks Band featuring Susan Tedeschi, and I must say I'm a fan. Derek Trucks is a guitar virtuoso, and Susan Tedeschi is a talented guitarist in her own right with a soaring, soulful voice. When the two of them perform together it's magic. I love that they allow the talent of the rest of their band to shine through, as well.
It was hot in the sun, but lovely to spend the day outdoors with great music and great friends. For the first time in a long while I didn't worry about work or deadlines or grad school assignments. I left the concert renewed and refreshed. As German novelist Berthold Auerbach said, "Music washes away from the soul the dust of everyday life." Indeed, it does.