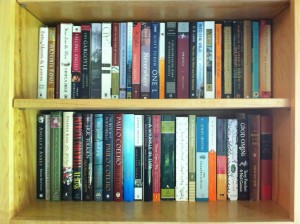 The Baltimore Book Festival was a couple of weeks ago and, due to an out-of-town family event, I was only able to attend one day. Torrential rains dampened most of the outdoor activities that afternoon, but it gave me a great excuse to spend some time in the George Peabody Library–the most beautiful library I've ever seen. (I also stayed dry exploring the Walters Art Museum, but I'll save that for a another blog post.)
Curious to learn about other local events similar to the book festival, I did some research, and I'm considering this my sort of "literary to-do list":
This one-day "celebration of literature" is sponsored by Baltimore's CityLit Project, which promotes the literary arts throughout the area with events, workshops, contests, and youth programs. The event is usually held in April and includes a literary marketplace, writing workshops, art exhibits, and author panels.
When: Every Spring. The 2011 CityLit Festival took place April 16.
Where: Enoch Pratt Free Library
400 Cathedral St., Baltimore, MD 21201
This annual conference is co-sponsored by Towson University's Professional Writing Program and Johns Hopkins University's M.A. in Writing Program. Participants will attend sessions on fiction, nonfiction, poetry, and the business of writing. They will also have the opportunity to meet with agents and publishers. The 2011 conference will feature keynote speaker Steve Almond. (Side note: I saw Steve Almond speak at the Conversations and Connections writing conference in D.C. last spring, and he was a dynamic speaker, both hilarious and insightful. If you're a writer and have the chance to go, I highly recommend it.)
When: Saturday, November 12th 2011, 9:00 a.m.-4:00 p.m.
Where: Towson University – Liberal Arts Building
8000 York Rd., Towson, MD 21252
This fiction reading series hosts events every third Saturday of the month at the Minás Gallery in Hampden. Participants get 10-12 minutes to read from their work. The events are hosted by writers Jen Michalski and Michael Kimball.
When: Every 3rd Saturday of the month at 5:00 p.m.
Where: Minás Gallery, 815 W. 36th Street, Baltimore, MD 21211
Lit & Art Events at the Watermark Art Gallery
Since 2007, the Watermark Gallery has brought together literature, music, and visual arts through the Lit & Art series. Experience author readings, live music, and artist performances. Audience members can participate during open mic sessions. These free events include complimentary wine and refreshments.
When: Various times throughout the year; information is posted on the gallery's website or the Writeful blog.
Where: Watermark Art Gallery, 100 S. Charles St, Baltimore, MD 21201
Inspired by H.L. Mencken and the magazine he founded, The American Mercury, this monthly non-fiction reading series celebrates "the creativity and the integrity of independent writers and journalists." The series is sponsored by the CityLit Project and co-curated by independent journalists Deborah Rudacille and John Barry.
When: Monthly
Where: The Windup Space in Baltimore's North Avenue Arts District, 12 W. North Ave., Baltimore, MD 21201