I know I said I would post more about Rome (and I will!), but last weekend I introduced a friend from out of town to some of the charms of Baltimore, and I was inspired to write about the little gem that is Iggies Pizza.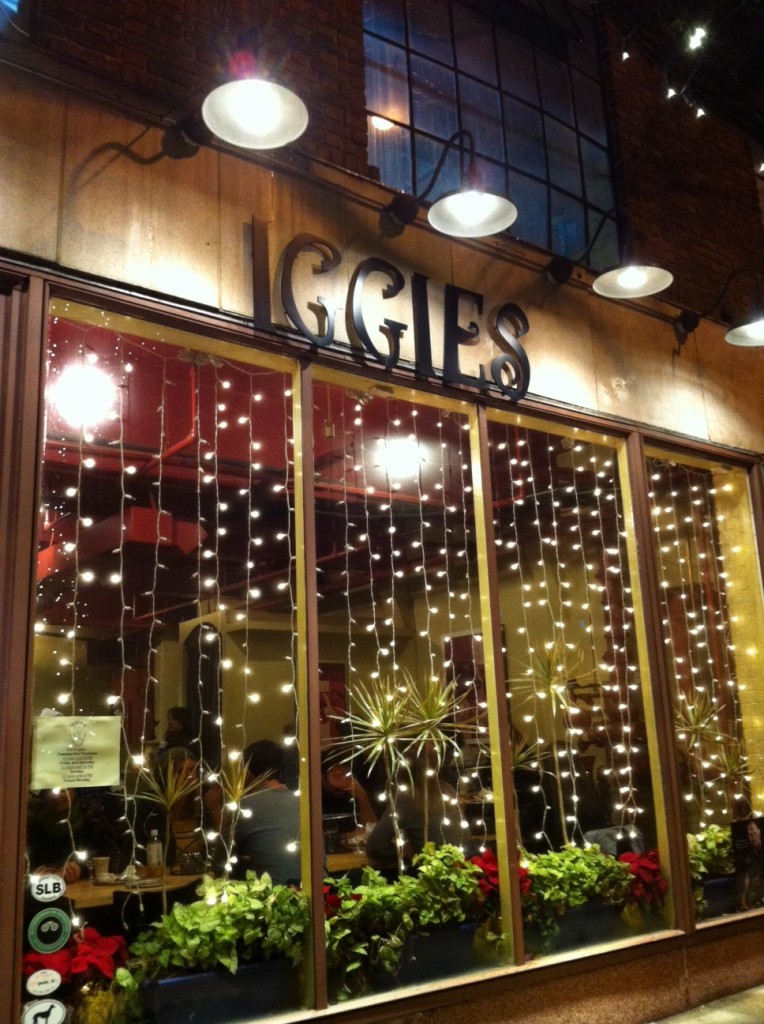 Baltimore may not be New York or Chicago, but it is possible to find delicious pizza if you know where to look. Located in the Mount Vernon neighborhood, Iggies is laid back, with an artsy vibe. The walls are a warm yellow, the ceiling and duct work are painted brick red, and fanciful paintings of Italian greyhounds add to the cheerful atmosphere. Diners can sit at small tables for four or a long communal island. On this recent visit we were seated at the island and had some fun conversations with the people around us.
Iggies is a self-service establishment with no wait staff—you order at the cash register, they call your number, and you pick up your food from the counter. They have a cart where you can grab your own silverware, plates, and glasses. Instead of tipping, diners can donate gratuities to charity if they wish, and Iggies donates to a different local organization each month.
The restaurant is also BYOB (with no corkage fee), and the staff will even provide metal buckets with ice to keep it cold while you eat. Water and soda are available for purchase.
The Menu
The restaurant uses imported flour in the dough and 100% D.O.P San Marzano tomatoes in the sauce. Iggies also boasts house-made mozzarella.
The menu selection includes several unexpected taste combinations, and delightful options for vegetarians as well as omnivores. Purists will enjoy the back-to-basics Margherita: tomato ragu, fresh mozzeralla and fresh basil. Cheese-lovers might try the "Cinque Formaggi" with mozzarella, parmigiana, goat cheese, asiago, fontina, sea salt, and roasted garlic.
If you're in the mood for something sweeter, the "Pera Saporita" features pears and gorgonzola with a balsamic reduction. My personal favorite is the "Alice," with basil pesto, mozzarella, fresh tomato, garlic spinach, goat cheese, and parmigiana. Pizzas are available in small and large sizes and range in price from $8.95 to $16.95.
If you can't decide, consider the Iggies designated "Pizza of the Month" or "Pizza of the Year." And, if you're in a rush, the restaurant offers carry out or a pre-made take and bake option for fresh-from-the-oven pizza at home.
Starters include an antipasto plate ($8.95) or a selection of salads ($5.95-$6.95). And, if you still have room for dessert, Iggies offers gelato, cannoli, and pignola cookies.
Useful Info:
Hours:
Tuesday, Wednesday, Thursday, Noon-9:00 p.m.
Friday and Saturday, Noon-10:00 p.m.
Sunday, Noon-8 p.m.
Closed on Mondays
Address: 818 N. Calvert St., Baltimore, MD 21202
Phone: 410.528.0818