My mom and I took a trip to Worcester, MA last weekend to go wedding dress shopping with my sister, and we had dinner with her future in-laws at The Sole Proprietor. As we pulled into the parking lot, we were greeted by "Buster" the giant crab, affixed to the roof of the restaurant like something out of a 1950s horror flick.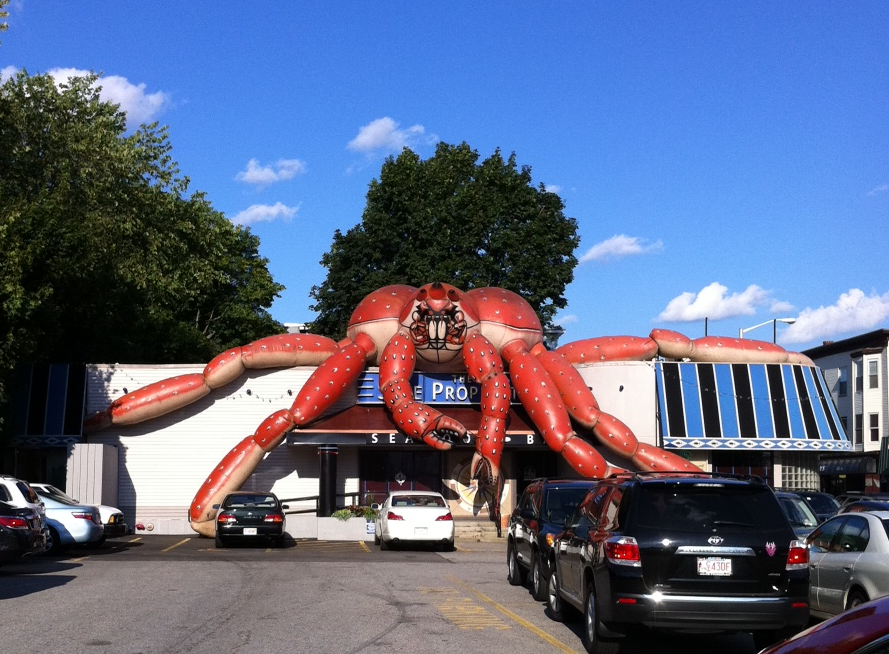 Apparently this curiosity can be seen only during crab season (The Sole features a special "Buster's Favorites" menu of crab dishes–kind of creepy if you think about it) and we were lucky to see him, as it was his last day before retiring for the year.
The restaurant was packed, even though it was a Sunday evening  (always a good sign) and the food was delicious. We started with vegetarian roll and Tiger Eye sushi appetizers. Several people in our group raved about the crab risotto (a "Buster's Favorite"), and the seafood with scallops, shrimp, and mussels. I'm a vegetarian and haven't eaten seafood in several years, but I loved the Asian pear and walnut salad, which could have been a meal in itself, with a side of rich and creamy mac and cheese. It's probably just as well–I don't know if I could have looked Buster in the eye when we left if I'd ordered the crab anyway.